Experience excellence in service when you visit us! we do a professional faux locks, Havana, crochet braids, Senegalese twists, sew in or quick weaves, hair extension,micro links, dreadlocks maintenance, natural hair care.
We offer a wide variety of top quality services to fit your needs. Our experienced staff will help you determine the best services for your needs and deliver the kind of quality and value you expect from a professional hair salon. Our location is designed to make your experience enjoyable and leave you feeling inspired! Check out our complete service menu below to get a feel for what we do. Please note: Service prices and availability are subject to change without notice.
Hair services are priced based upon your hair length/type and the service you wish to have. For more information, please call 916-706-1732 to speak with us.
Hair Braiding & Dreadlocks
We specialize in African American hair braiding and dreadlocks. View our complete menu of diverse hair braiding styles we offer below. Consultation to find the correct application for your hair is available. Price is dependent on your hair and specific needs and will be determined upon consultation. Please call for additional information.

One of the most popular African-American hairstyles, hair braiding designs are an integral element of the African-American culture. From the simplest of the three-strand braids to the complex micro and cornrow braid styles, braid hairstyles provide a versatile option for styling natural black hair. You can choose to either let them lie closer or hang freely from the scalp. Although it primarily suits the people with long hair, women with shorter hair can use hair extensions that can be used to braid the hair. 'Large Box' braids, also known as goddess braids, are created by plaiting artificial hair into large braids. However, remember that hair which is braided too tightly may result in hair loss and thinning.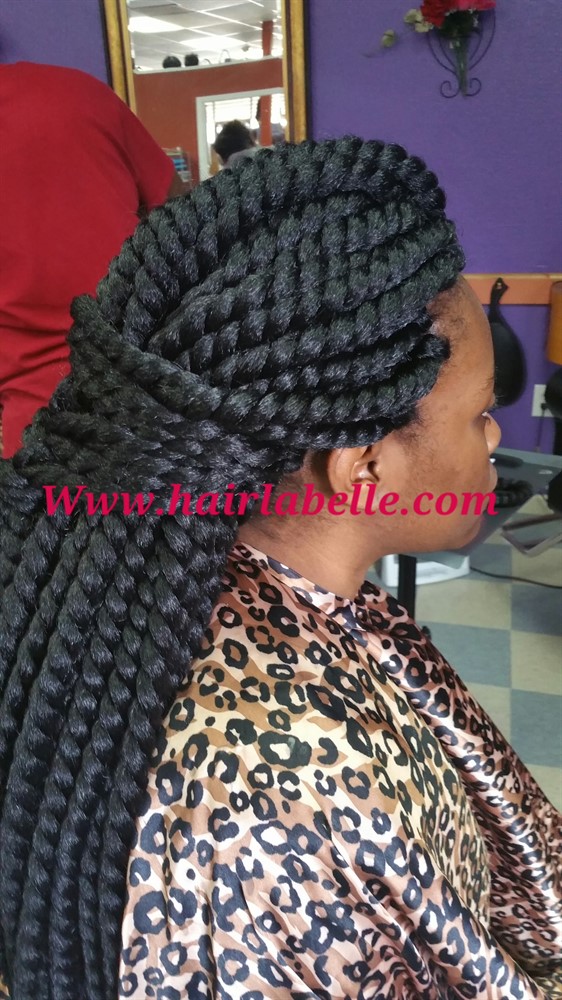 The crochet braids pricing depends to the extension the individual will be using.
Call today and ask for your desired service
There are two main effects women commonly use crochet braids to achieve. They often are used to add a splash of color to natural hair. The crochet braids can even be woven in to cover natural hair, leaving one complete braided hairstyle in the color of the purchased braids. These braids may also be used to create longer hair styles. Very long braids can be woven in and then cut to the desired length.

Crochet braids are a popular choice not only because they can help create a quick, fashionable hairstyle, but also because they're a low-cost and low-maintenance way to change a hairstyle. Once the braids are woven in, daily hair-care requirements are typically greatly reduced. These types of braids also don't cost a lot of money compared to many other extension options. These types of braids don't require hair glue, caps or any of the other things that extensions sometimes require. The result is that this hair style is very easy on your scalp. People who have a sensitive scalp or who want to give their scalp a rest from more intense hairstyles may use these braids for a while because of that reason.
It is also a protective hairstyle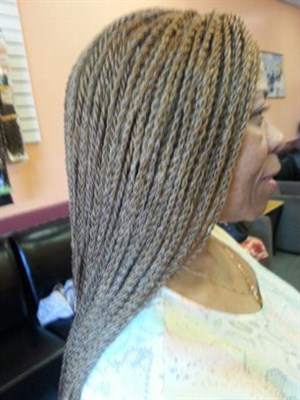 A two strand twist across each other. They are long and smooth.
Spring Twists are two strands twisted across on each other. This is a spring type of kinky hair used to give that bouncing look.
Nubian it is similar to that spring twist being light and soft. It's also two stranded.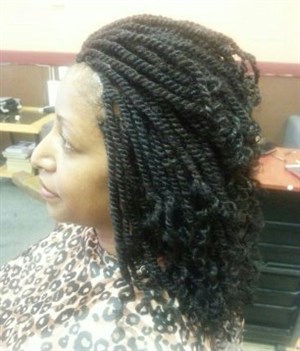 Two strand twists with extension hair known as Marley Braid Hair instead of the typical braiding hair. Marley Braid Hair very closely resembles natural hair textures.
It's a two strand twist like Kinky or Marley twist but bigger than the Kinky twist
Its rang by the size and length please call for more info.
fluffy twist is like the Havana type. It is fluffy that create the natural look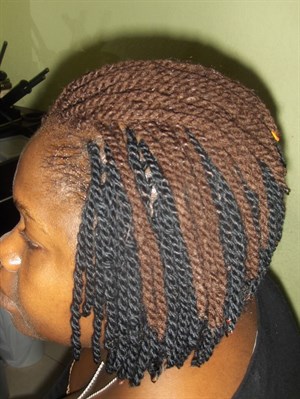 please call
Yarn twists is a two stranded twist with a yarn. It is very natural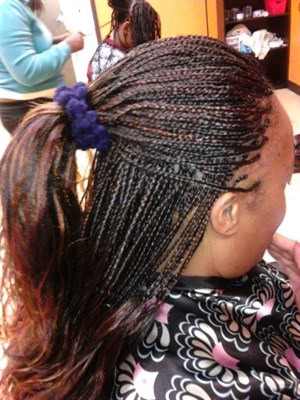 please call
Its and individual three stands braids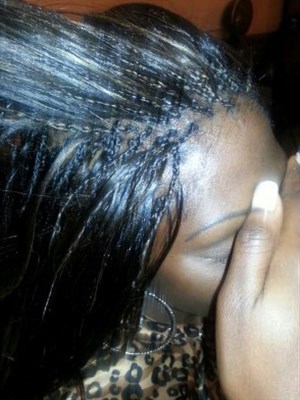 A woman needs a hair style that can transform from work day to date night, playground to party spot without too much hassle or looking unnatural. Tree Braids are a safe and protective hair style for both·relaxed·and natural hair.

There are two types of tree braids:

Cornrow Tree Braids and Individual Tree Braids.

Cornrow Tree Braids, and Individual Tree Braids are the most amazing protective braid styles there are. Tree Braids are a hair extension technique that gives a woman the best of both worlds, cornrowing your natural hair while inserting stands of commercial hair extensions.

Tree Braids are full, lush and beautiful and fall back from the face like natural hair. The hair can be worn up depending on the length you select or it can be worn loose. You can pretty much part it wherever you like. Tree Braids almost completely cover and camouflage the cornrows. The real hair is braided into the cornrows, thereby protecting the natural hair and giving it freedom from daily hair-care stresses.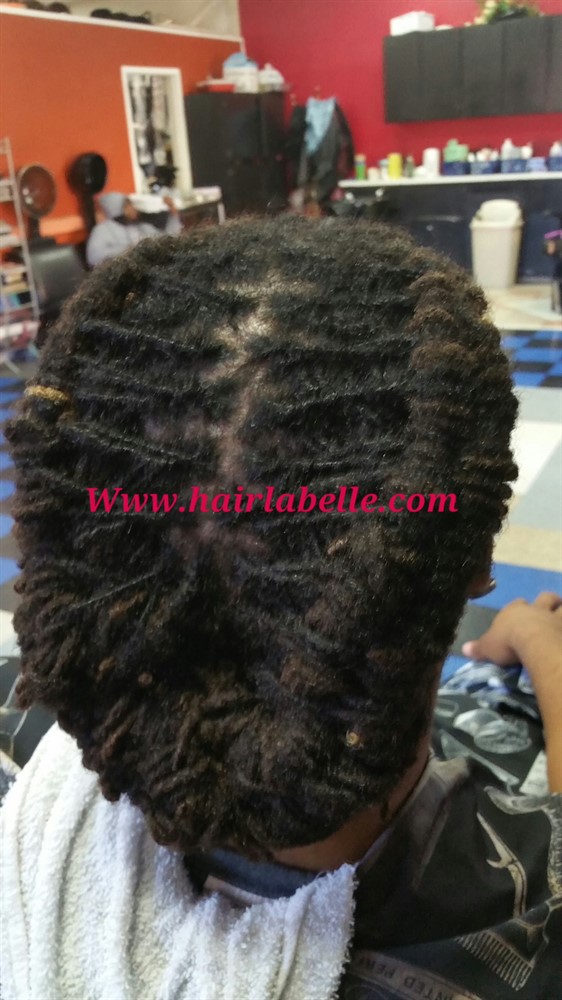 call for pricing
Dreadlocks are matted and sculpted ropes of hair. They can be back combed braided, comb twisted or perm rolled. They look great all the time with care and maintenance. sometimes your hair grow slower, but it is normal. It takes anywhere 3 to 6 month to lock depending on the hair type
Return to Top
Service Policy
Please call (916)706-1732 or email hairlabelle@gmail.com for our appointment policies.